Partnership between PPCU and University of California, Los Angeles (UCLA)
January 16, 2019
Prof Szabolcs Szuromi, Rector of PPCU signed an agreement of cooperation involving both research and education in the field of Humanities with UCLA on January 11th, 2019 in Los Angeles.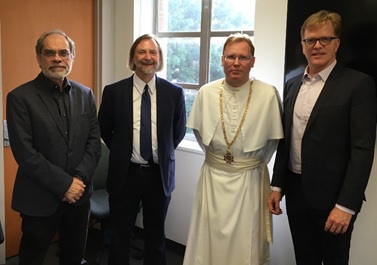 Out of the ten campuses of University of California (UC Berkeley, UC Santa Barbara, UC San Diego, etc.), UCLA is the second oldest (founded in 1868). According to the Times Higher Education World University Rankings UCLA is 15th in 2018 in the worldwide overall statistics. UCLA is also one of the few humanities centers in the United States that pursues active scientific activities in areas related to the Central European region. Since Los Angeles also hosts the strongest Armenian diaspora in the western world, UCLA is the home of two Armenian departments (which can be considered unique globally). Thus the agreement's content was developed by Dr Bálint Kovács, Head of PPCU's Institute of Armenian Studies and during preliminary discussions with the Rector of PPCU.
The signing of the document not only ensures cooperation in the field of Armenian studies, but also covers several other areas within the Faculty of Humanities and Social Sciences at PPCU, namely History, Central European Studies and Slavic Studies.
UCLA also plans to implement a joint research and education program with a focus on South East Europe (Black Sea Studies) with PPCU, to which the latter's Institute of History could provide its excellent connections.
During the official meeting dedicated to exploring the possibilities of cooperation in detail, both Prof Szuromi and Prof David Schaberg, Dean of the Division of Humanities at UCLA expressed that they consider the agreement mutually beneficial and much needed, not only related to master and doctoral studies, but to scientific research programs as well. The partnership will enable teacher and student exchanges and joint scientific work.
Prof Ronald Vroon, Chair of the Department of Slavic, East European and Eurasian Languages and Cultures said that there used to be a professor of Hungarian history at the university and a Hungarian language lecturer is still present, but he would like to provide long-term teaching of Hungarian history with PPCU guest lecturers through the scope of this cooperation agreement. Both Parties would like to achieve an active exchange of students between UCLA and PPCU.
S. Peter Cowe, Professor of Armenian Studies also noted that with the signing of these agreement the former outstanding personal relationships have been elevated to a formal collaboration with PPCU's Institute of Armenian Studies.
Thanks to the agreement UCLA will be able to join several programs from the spring of 2019, including the Armenian Bible exhibition at the National Széchényi Library and the related professional works, as well as participation in the summer school titled "Armenians in Central Europe" scheduled for the summer of 2019.