International Canon Law History Research Center (ICLHRC)
I. SCIENTIFIC ACTIVITY:
1. Analyzing the canonical historical heritage of the Church in organized form, defining some important central research topics which could be observed from different aspects.
2. Discovering the contemporary meaning of the original ecclesiastical texts.
3. Presenting the contemporary religious attitude during the initialization of the ecclesiastical daily routine.
4. Express and interprets well the goal of the Church, keeping in mind the primary intention of the ecclesiastical discipline: i.e. the salvation of soul.
5. Precise presentation and supporting through primary research of sources and auxiliary material that theology and canon law are real science, not only in the early classification of knowledge, but in its modern sense; supplied these by the proper methodological technic.
6. Interpretation of those texts which issued through the life and activity of the Church.
7. Organizing yearly meeting to use the digitalized material of canon law history which is most rich collection in Europe now.
8. Educate the next generation to understand the analyzing method (paleography, codicology); the contemporary canonical concept; the theological meaning of the canonical texts; to make them expert in the former sources of canon law collections.
9. Arranging research projects, study days and academic training to promote the above indicated goals.
II. THE ICLHRC'S STRUCTURES INVOLVES: Director, Head of the Scientific Council, Scientific Board, Core Members (members of the Scientific Council), Members, Affiliated Members, Independent Researchers, Collaborators, Scientific Advisers, and PhD or Postdoctoral Scholars.
III. THE ICLHRC'S COOPERATIONS: The ICLHRC likes to keep a good and active scientific relation and cooperation with the other internationally recognized similar institutes, namely with ICMAC (The Catholic University of America, Washington DC., USA); Stephan Kuttner Institute (Yale University, New Haven, USA); Medieval Institute of the University of Notre Dame (South Band, IN.); Pontifical Institute of Medieval Studies (Toronto, Canada).
IV. OFFICIAL ADDRESS:
Pázmány Péter Catholic University
1053 Budapest, Veres Pálné u. 24; Phone +36-1- 484-3030
Email: iclhrc@ppke.hu
STRUCTURE AND MEMBERS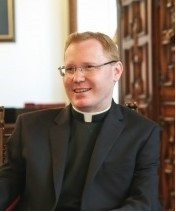 1. DIRECTOR:
Prof. Szabolcs Szuromi DSc.
Pázmány Péter Catholic University
Head of the Canon Law Department
H-1053 Budapest, Veres Pálné u. 24
phone: +36-1-484-3038
2. HEAD OF THE SCIENTIFIC COUNCIL:
S.Em.a R.ma Péter Card. Erdő DSc.
member of the Hungarian Academy of Sciencies
Cardinal-Archbishop of the Esztergom-Budapest Archdiocese
1014 Budapest, Úri u. 62.
H-1053 Budapest, Veres Pálné u. 24
3. SCIENTIFIC BOARD:
Prof. Nicolás Álvarez de las Asturias
Universidad San Dámaso
Jerte, 10
28005 Madrid
España
Prof. Joaquín Sedano Rueda
Facultad de Derecho Canónico
Edificio de Facultades Eclesiásticas
31009 Pamplona
España 
4. CORE MEMBERS:
Prof. Jose Miguel Viejo-Ximénez
Universidad de Las Palmas de Gran Canaria
Departamento de Ciencias Jurídicas Básicas
Edificio Ciencias Jurídicas
Campus Universitario de Tafira
35017 - Las Palmas de Gran Canaria
España
Prof. Nicolás Álvarez de las Asturias
Universidad San Dámaso
Jerte, 10
28005 Madrid
España
Prof. Joaquín Sedano Rueda
Facultad de Derecho Canónico
Edificio de Facultades Eclesiásticas
31009 Pamplona
España
Prof. Orazio Condorelli
Università degli Studi di Catania
Dipartimento Giurisprudenza
Via Gallo, 24 - 95124 Catania
Italia
Prof. Bruno Esposito, O.P.
Pontificia Università S. Tommaso d'Aquino
Facoltà di Diritto Canonico
Largo Angelicum, 1, Roma
Italia
Prof. Stephan Haering OSB.
Ludwig-Maximilians-Universität
Katholisch-theologische Fakultät
Geschäftsstelle (Hauspostfach 46)
Geschwister-Scholl-Platz 1
80539 München
Germany
5. MEMBERS:
Prof. Anne J. Duggan
FRHistS, FSA, FKC, History Department
King's College London
Strand, London, WC2R 2LS UK
Prof. Thierry Sol
Facoltà di Diritto Canonico
Pontificia Università della Santa Croce
Piazza di Sant'Apollinare, 49
00186 Roma
Italia
6. AFFILIATED MEMBERS:
Prof. Em. Hanns Engelhardt
D-76133 Karlsruhe, Kochstr. 2-4
Fr. Marcos Torres
Universidad San Dámaso
Jerte, 10
28005 Madrid
España
VI. ASSEMBLIES:
1st – Pamplona – Madrid (March 18th – 20th 2014)
2nd – Budapest (March 8th – 10th 2016)
3rd – Budapest (May 23rd 2017)
4th – Venice (August 31st 2017)
5th – Budapest (February 13th 2018)
6th – Budapest (August 21st 2018)
7th – Venice (September 5th 2018)
8th – Budapest (February 9th 2019)
9th – Madrid (March 18th 2019)
10th – Venice (September 3rd 2019)
Homepage: https://ppke.hu/kutatas/kutatocsoportok/international-canon-law-history-research-center